A Fantastic Charity Bike Build Event for Kids
ExamOne had a Corporate Team charity bike for kids through the local Salvation Army. They built some excellent bikes for some great kids at Hilton Head Island, South Carolina. Lauren Davis with ExamOne did an amazing job organizing the event. The builders were supported by Mike Fink of  Mike's Bikes on the Island.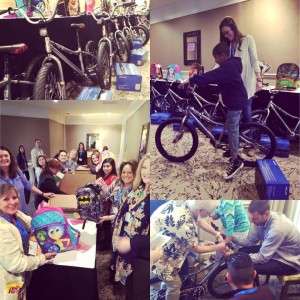 The teams not only built bikes they also gave the kids some magnificent backpacks. Here is what Lauren had to say about the event:
"We recently did a give-back event at our National Convention and Mark was very helpful getting that organized for us. Everyone worked together on teams and at the end of the event we presented the bikes to families from the local Salvation Army. This was so touching for everyone at the event. One of our employees brought everyone to tears when she shared; "I know what it's like to be on the receiving end of something like this, and I know that we helped change those children's lives today. There is nothing more rewarding than to make a difference in the life of a child.  I am so proud to be part of a company that cares for others like this and I truly think it's the best thing we've ever done."
Good deeds by a Lauren and her great team at ExamOne.
Here is a few words about ExamOne which is a Quest Diagnostics Company:
"Our value-added services are designed to make the underwriting process quick and convenient for applicants, agents and home-office personnel. With customized statistical reports, an electronic voice response system and a team of solution experts dedicated to solving your business's challenges, we are focused on helping underwriters achieve maximum efficiency.We also produce publications, provide educational speakers and offer a Medical Information Line, which gives our clients quick answers to their medical and technical questions. Our superior staff, cutting-edge technology and stringent quality-control programs facilitate our continued commitment to quality and innovation."
About Bikes for Goodness Sake and Corporate Team Charity Bike Builds
Bikes for Goodness Sake is a charitable organization- 501c(3) – with a mission to share to Goodness of Bicycles with underprivileged children through sponsored corporate charity bike build events. We help corporate, personal, and group sponsors create charity bike build events that give back to the communities that they live in.
This is what a corporate team charity bike build is about.