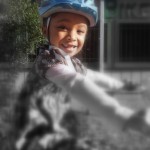 A corporate charity bike build in Austin, Texas.
Texas Mutual has been a long standing supporter of goodwill in the community. They have done a number of corporate charity bike building events and built bikes for scores of children. This event the Texas Mutual team built 14 bikes in support of children in a United Way Program in East Austin.
Here is an excerpt from the United Way posting about the corporate charity bike build event:
As students and their families filled the Decker Middle School cafeteria last Thursday for an end-of-camp celebratory dinner, the camp's English teacher welcomed families by giving a speech about the enduring memories of his summers spent at his Boy Scouts camp. The events that followed left our campers with their own bank of fond memories of a summer spent learning, building new skills and making new friends.

Throughout the course of the night, students presented their summer work to their peers and families, showed younger siblings the collages they made and the personal stories they recorded, and stepped forward to receive awards and recognition for their hard work and leadership. Awards given to the students included the "Change Maker Award," "Force for Good Award" and "Spirit of Service Award." The final and most coveted award of the night carried much anticipation; students worked for weeks on creative projects for the chance to win a brand new bike.

Texas Mutual Insurance Co. built 14 new bikes to give away to selected students at Decker, complete with encouraging cards, helmets and locks, all to support the summer learning initiatives of UWATX and the students who made the choice to return to school during the summer to continue their education.
By the way, the Texas Mutual team get the cleanliness award. They kept their work site free of debris and organized.
The team at Bucks Bikes performed the mechanic functions and pre-assembly instructions. They know Pete Buck from previous corporate charity bike builds put on by Texas Mutual.
Learn more about a Charity Bike Build Event that you can sponsor.